cultural lacuna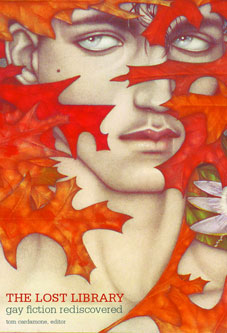 The Lost Library: Gay Fiction Rediscovered was born from many minds and built by countless hands. I'm an inveterate book collector and the idea for this anthology grew out of multiple conversations with gay authors, many of whom recommended favorite texts that, when tracking down the titles, I discovered that most of these books were out-of-print, some difficult-nigh-impossible to find. As my fiction writing developed and I gained a deeper knowledge of gay letters, I was always looking to expand this conversation, make it permanent, and not finding a text that addressed this issue, cobbled one together.
Excerpt from the Introduction
"Of course I read some brilliant gay books that continue to stay in print, have won awards, and have been adopted into a gay canon, but I was increasingly curious as to whether they represented the whole of gay literature; were these titles the genuine pinnacle? So many of the books that came up in conversation embodied a diversity and history that was either pre-Stonewall or went far beyond the available urban story. The current canon does not make room for campy pulp paperbacks from the fifties and sixties, so unrepresentative of our current lives yet so important as historical documents and, in their day, as proof of our very existence. Serious pioneer texts from these periods and even earlier have been obscured by more forward, modern works. Transformative novels were lost as the dark and dangerous eighties were consumed by the heady nineties. Yet contemporary novels can have a fleeting existence within the current multiplication of medias and the technological rapidity with which art is delivered and consumed. A cultural lacuna has opened, one that needs arresting."
Critical Comments
"The attention paid to the detail of cover art, to the contrasts between the presentations of various editions and re-printings, and the authors' frequent references to libraries and bookstore bargain-bins, suggest that sometimes the journey to a book is as important as the resulting read."

-Foreword Reviews
"You can dip in anywhere in Tom Cardamone's imaginative and bold anthology and find something of great worth. In fact maybe all reading experiences should be like this, the richness of great plenty."

-Kevin Killian, Author, Reviewer
"A dazzling and pioneering collection of essays by contemporary gay writers who remember—and memorialize—those literary works that shaped their own personal journeys toward self-recognition. Collectively, the essays testify to the enduring power of art to illuminate the paths that lead us home."

-Emmanuel Nelson, editor of The Encyclopedia of Contemporary LGBTQ Literature of the United States
Review at Out In Print
Interview at Mary: A Literary Quarterly
The Lost Library was named one of the 10 Best nonfiction books of 2010 in Richard Labonte's Book Marks column, won a Rainbow Award for Mel Odom's startling cover art (buy me a drink and I'll tell you how I got in touch with him and what a sweetheart he was to work with), and won in the San Francisco Book Festival's gay category for Best Book of the Spring Season.